COMING TO SAN LEANDRO!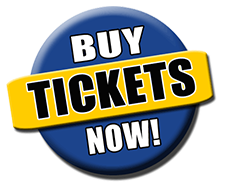 EIGHT of the Bay Area's most critically-acclaimed, award-winning, and beloved solo shows are coming to San Leandro!
Note: Due to mature language and themes, this series is recommended for ages 15 and up.
Tickets are on sale now at Brown Paper Tickets or by calling 1-800-838-3006.
Subscription series ONLY. Individual show tickets will not be available.
All shows will be held at the San Leandro Main Library, 300 Estudillo Ave., San Leandro.
Shows are Fridays & Saturdays at 8 PM and Sundays at 2 PM. Schedule is subject to change.
Please note that "The Jewelry Box" is playing Saturday, Dec. 16 at 5 and 7 PM, and Sunday, Dec. 17 at 2 PM.
Seating is General Admission.
Questions? Contact info@bestofsfsolo.com
THE SHOWS: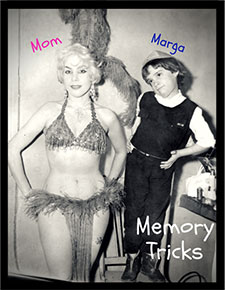 MARGA GOMEZ: MEMORY TRICKS
Oct. 13-15, 2017
25 years after her Off Broadway debut, Marga Gomez will revive her critically acclaimed solo show "Memory Tricks" at Brian Copeland's Best of SF Solo Series. By turns funny and heartfelt, Marga's complicated relationship with her unforgettable showgirl mother is told simply but powerfully, whether it's a charged mother-daughter picnic in Central Park crashed by a flirtatious cop, or the adult Marga's search through the boulevards of Paris after her mom runs away from home and her second marriage. "Memory Tricks" was developed in San Francisco at The Marsh with David Ford and in New York directed by Roberta Levitow at The Public Theater. "Memory Tricks" remains the most critically accalaimed of her 12 solo plays. Marga return's to Brian Copeland's Best of SF Solo Series after 2016's "Latin Standards," which went directly to the Public Theater's Under The Radar Festival.
"The autobiographical monologue has been raised to a new level with a new generation or writer performers. Among the best is Marga Gomez... hilarious and moving 'Memory Tricks.'"
—Variety
"A funny and touching stage autobiography... I warmly recommend it."
—Frank Rich, New York Times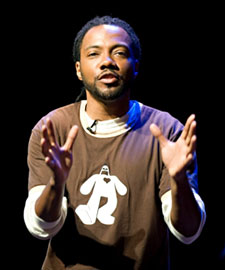 AL LETSON: SUMMER IN SANCTUARY
November 3-5, 2017
Every day in America, more than 7,000 students drop out of school. "Summer in Sanctuary" is an autobiographical narrative that chronicles Letson's summer working as a creative writing teacher at the Sanctuary on 8th Street, a community center in an economically challenged neighborhood in Jacksonville, Florida. Letson challenges perceptions about race and class as he struggles to connect with the disadvantaged children of the Sanctuary. With Letson's natural gift for storytelling, "Summer in Sanctuary" opens the dialogue on America's dropout epidemic, while sharing the intimate story of a man's attempt to make a difference in the lives of a group of high-risk kids. Told through monologue, poetry, song, and sound-rich reporting, "Summer in Sanctuary" takes listeners beyond the statistics to reveal the unseen challenges and complexities facing students in communities across the country.
"Letson is in masterful command of his audience."
—San Francisco Chronicle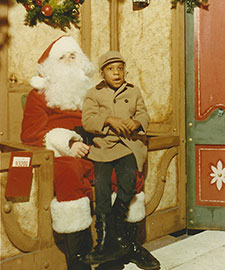 BRIAN COPELAND: THE JEWELRY BOX
Dec. 16-17, 2017
In this hilarious and heartwarming prequel to his hit show "Not a Genuine Black Man," beloved actor-playwright Brian Copeland recounts two memorable weeks in his youth when he took to the "mean streets" of Oakland to buy his mom the perfect Christmas gift. Rife with references to 1970s Oakland, "The Jewelry Box" follows six-year-old Brian's adventures as he scours the help-wanted ads, applies for jobs and collects bottles, inching his way toward the coveted present, a jewelry box at the Hegenberger White Front store.
"Destined to be a holiday classic!"
—SF Examiner
"'The Jewelry Box' is a gift in itself... it glitters with bright comedy, sharply observed local color and deftly drawn characters as well as genuine warmth."
—San Francisco Chronicle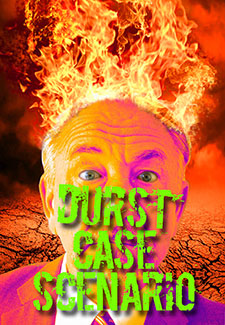 WILL DURST: DURST CASE SCENARIO
January 26-28, 2018
Fresh from the national tour of his award-nominated, hysterical chronicle of the action-packed 2016 election, "Elect to Laugh," comic/ columnist/ actor/ author/ former oyster shucker Will Durst is excited to present his new solo outing "The Durst Case Scenario," a comedic exploration of a changing America during the Time of Trump. It's a rollicking feast of satire as up-to-date as the President's latest 4 AM tweet.
In this lightning-paced, 80-minute comedic tour-de-force, Durst, described by the Oregonian as "the thinking man's comic," analyzes where we are, how we got here and what possible destinations lie ahead. He also recounts the wacky zany antics, palace intrigues and pitfalls of polarization threatening to tear our country apart in this, The New Abnormal. It's incisive and trenchant and profound with jokes. Many funny ones.
"Durst's good-natured, acerbic monologue is so funny that... I found myself on the verge of uncontrollable, hysterical laughter. His observations are hilarious."
—San Francisco Examiner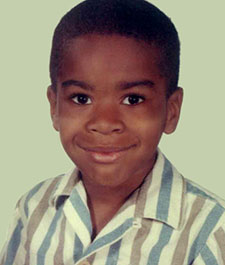 DON REED: CAN YOU DIG IT?
February 23-25, 2018
Hot on the heels of the hilarious and critically acclaimed "East 14th" and "The Kipling Hotel," Don Reed returns with the next installment of his wonderfully wild and awkward autobiographical journey.
"Can You Dig It? The 60's Back Down East 14th" rewinds to the 60's—a prequel-plus—going back to young Don's formative "Stand By Me" years in Oakland grammar school when the family was "whole." Before his father became a pimp—before his mother reluctantly became a Jehovah's Witness—a lot of wonderful, scary, amazing, unnecessary, cool, moving, unbelievably true stories unfolded. From the Beatles to the Black Panthers, James Brown to the Jerk, MLK to JFK to the KKK—come and see the 60's through the blinking eyes of an awkward kid who's just trying to fit in.
"Flat-out hilarious... [an] electrifying performer."
—KQED/PBS/NPR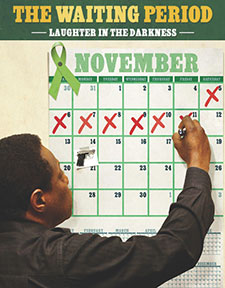 BRIAN COPELAND: THE WAITING PERIOD
March 16-18, 2018
This show is an unrelenting look at a ten-day period in Copeland's life—the mandatory ten-day waiting period before he could lay his hands on the newly purchased gun with which he planned to take his own life.
Even in the midst of this tragedy, however, his wonderful sense of the comedy of life does not desert him (how much should he spend on the gun?), indeed serves him insidiously well as a buffer against the grim reality of his intention. Copeland hopes this very personal, and ultimately redemptive, story will reach people who struggle with depression—often called the last stigmatized disease—as well as their families and loved ones.
Interspersed with interviews with other sufferers, the play also offers outsiders an insider's view, thereby expanding our understanding and, hopefully, our humanity.
Winner, 2015 Theater Bay Area Award for Outstanding Production of a Solo Play

"As astonishingly funny as it is brutally honest—and all of it is admirably courageous, urgent and yet charmingly told."
—Robert Hurwitt, San Francisco Chronicle
"It's a play I'd strongly recommend to anyone who is now or has ever been depressed or who knows someone in that situation. But honestly, it's such a strong piece that I'd recommend it just as heartily to anyone who's ever been human."
—Sam Hurwitt, The Idiolect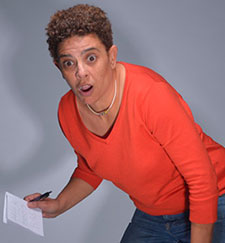 JULIA JACKSON: CHILDREN ARE FOREVER (ALL SALES ARE FINAL)
April 13-15, 2018
Julia's never bought a baby. Okay, she's adopting. Did you know black babies are 50% off? WTF? Five days after signing with an agency, a birth mother chooses Julia and her wife. But one slip of the tongue puts the adoption and her marriage at risk. Forget "one day at a time"—time's up! What's a Sistah to do? Best Non-Fiction Script at United Solo in 2014!
"Well acted and consistently funny... Jackson's smart script details the trials, red tape, and unexpected market incentives in the field of adoption for a same-sex, interracial couple."
—Rob Avila, SF Bay Guardian
"Four stars! The story kicks you in the gut and then makes it all better with a belly laugh... In a city of standout solo performers, Jackson can hang with any of them."
—Doug Koneky, SF Theater Blog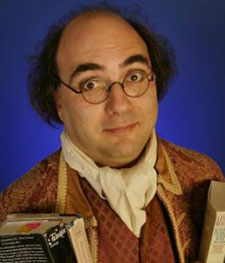 JOSH KORNBLUTH: BEN FRANKLIN UNPLUGGED
May 11-13, 2018
Gazing into the bathroom mirror one morning while shaving, Josh Kornbluth is suddenly struck with the thought that he looks remarkably like the guy on the $100 bill. Like any good Jewish son, he immediately calls his mother. In what is both an autobiographical sketch and an exploration of Benjamin Franklin's family life—focusing on the founding father's relationship with his illegitimate son William—Kornbluth creates an engaging and witty free-form detective story. As his investigations about Franklin take us from the hallowed halls of academia to his richly comic interactions with his mother Bunny and Aunt Birdie, Kornbluth shares with us his discoveries about America's history, family foibles, and the surprises that still lay in store for us in what we think are familiar stories.
"This 'Ben' is healthy, hilarious and wise... a hilariously disarming, enchanting, and ingenious tale."
—Robert Hurwitt, San Francisco Chronicle
Tickets are on sale now at Brown Paper Tickets or by calling 1-800-838-3006.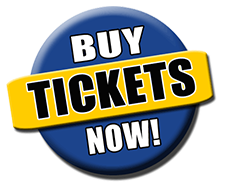 © Brian Copeland.